Book Title:

Basic Khmer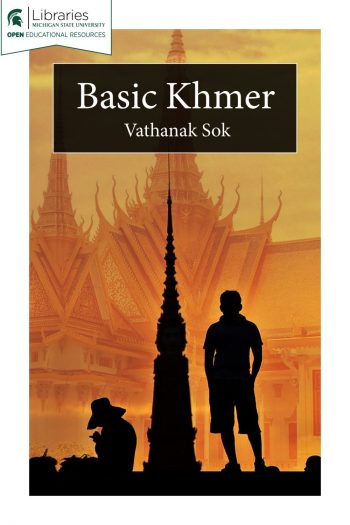 Book Description: This online interactive theme-based open textbook is for beginner learners of the Khmer language. This book aims to provide a practical introduction to speaking, listening, and reading. By the end of this course, students will be at the B1 level of the Common Framework for Language and at the low intermediate level on the American Council on the Teaching of Foreign Languages (ACTFL) proficiency scales. Basic Khmer is funded by the Open Educational Resources Program at Michigan State University.
License:
Creative Commons Attribution NonCommercial
Book Information
Book Description
This book contains eight chapters. In the first five chapters, each chapter is divided into two parts. The first part is based on the conversation and presents the grammar and vocabulary necessary to deal with everyday situations. The Cambodian script and sound system are introduced in the second part of each chapter.
Each chapter has clear learning outcome, a review of the previous chapter, the review of the vocabulary, grammar points and cultural notes. The layout of each chapter is followed by three modes of communication (interpretative, interpersonal and presentation mode) across the four skills. Each chapter also has a listening, speaking, reading and grammar section, followed by interactive activities. Cultural notes and a few online available materials related to the theme of the chapter is also introduced. Each chapter ends with key vocabulary/expression and Grammar summary. Vocabulary in reading and listening is built in the conversation with the English translation so that learners can infer the meaning in the given context. Learning activities have been developed by using h5p so that learners can get immediate constructive feedback.
License
Basic Khmer Copyright © 2022 by Vathanak Sok is licensed under a Creative Commons Attribution-NonCommercial 4.0 International License, except where otherwise noted.
Subject
Language and Linguistics