Book Title:

CLUE: Chemistry, Life, the Universe and Everything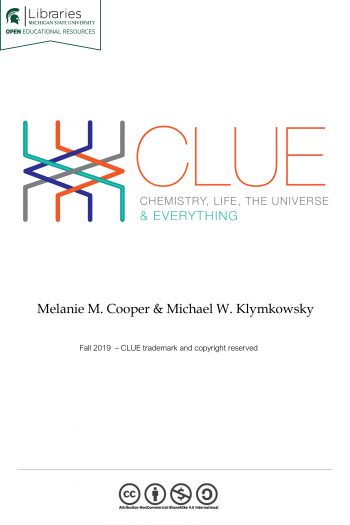 Book Description: CLUE was designed to help students attain a confident, competent, and coherent understanding of basic chemistry, in particular of the chemistry associated with organisms and their origins.
License:
Creative Commons Attribution NonCommercial ShareAlike
Book Information
Book Description
Chemistry, Life the Universe and Everything (CLUE) is a transformed general chemistry curriculum, developed by an interdisciplinary team of a chemist and a molecular biologist, that aims to bring about evidence-based change in general chemistry. General Chemistry is a gateway course for many students intending on careers in scientific, engineering, and health care-related disciplines. While there have been many attempts to improve the outcomes for these students, little has changed over the past 60 years. Recent transformation efforts have focused primarily on incorporating student engagement techniques into the course, rather than considering what it is that is important for students to learn. CLUE is different. CLUE was developed using a design research approach that focuses on scaffolded progressions around four core ideas: structure and properties, bonding and interactions, energy, and change and stability. The course emphasizes causal mechanistic reasoning in order to help students move beyond knowing that, to knowing how and knowing why chemical phenomena occur.
License
CLUE: Chemistry, Life, the Universe and Everything Copyright © 2020 by Melanie M. Cooper & Michael W. Klymkowsky is licensed under a Creative Commons Attribution-NonCommercial-ShareAlike 4.0 International License, except where otherwise noted.